The w115 had a tank hanging below the trunk, and have the fuel strainer hanging at the bottom (the same as the 911 (930) Porsche)
The look and design of the filter is quite identical, where the only noticable difference between a gasoline fuel strainer from a w115 and the Porsche fuelstrainer was that the Benz had the Mercedes star embeded. (as picture below)

Diesel fuelstrainer with partnumber A 210 470 05 06, stock gasoline fuelstrainer from a 1976 Mercedes w115 200, and the fuelstrainer from a 1982 Porsche 930 (911)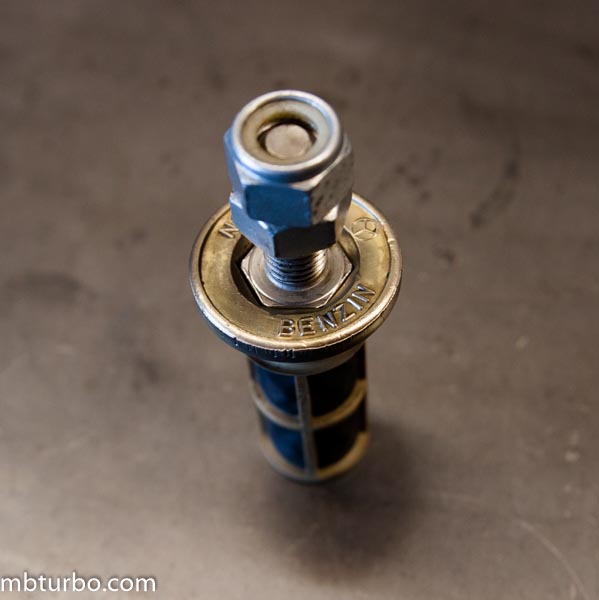 I first tried using a two nuts and hoped they would be sticky enough, and i later welded it together since it would unscrew itself when trying to remove the fuelstrainer on one particularly stubborn w115
its a m14 screw+nut with 22mm in dimension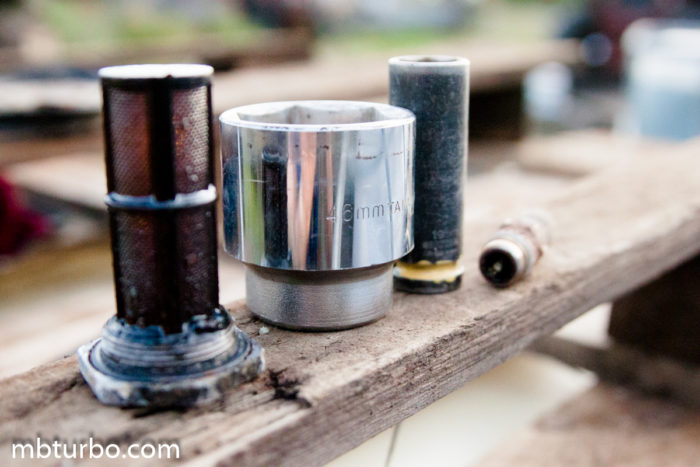 On the w123 sedan the fuelstrainer has the fuelline coming out of the center, and it has the "nut" part on the outside, since i was demolishing the car and only scavaging the usefull part, i cut the fuelline of as close to the strainer as possible, and removed that with a 19mm socket.
for the filter a 46mm socket did the trick, and it was removed with ease.
This was a diesel-fuelstrainer, and im going to clean that and save for when i stumble upon, or myself do an engine swap in a gasser w123 to a diesel.