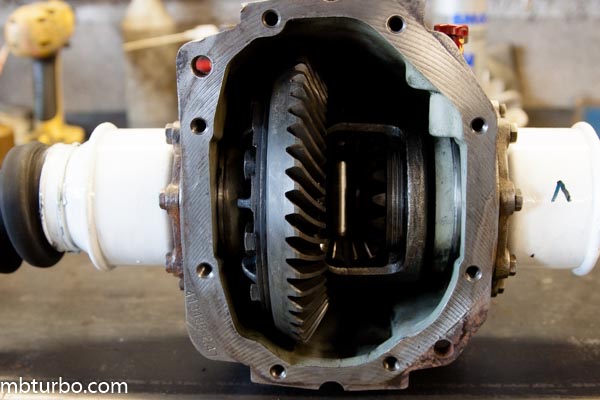 2.47LSD with large yoke/flange, swapped side of driveshafts, Left to right, and right to left. will probably have to rebuild the LSD-stuff, but will se how it behaves.
2.47 with the 722.6 should give me something along 1600rpm @100km/h and with the m275s insane torque, it wont be a problem with those low rpms.
will see what options i get with the 722.6 controller from Olefejer, i think lockup is only doable/advisable in fifth, and hopefully the slipp in torque converter will be so little that the 722.6 will behave deasent as a driftcar to.
the v12 m275 comes with the 722.6 stock, and its amongst the strongest versions of the 722.6 too :) i think equal to the AMG versions.
rear lid of the 2.47 differential
in place under the car, with a w126 or w116 V8 cardanshaft il get to use a larger flexdisc and it will hopefully not fly away in pieces.